L'Atelier supports and exhibits local artists from the Riviera. Painters, sculptors and multimedia exhibits throughout the year. Inquiries to exhibit contact +33 (0)6 82 83 15 32 or email; info@atelier-sur-mer.fr.
Find out all details about our current featured artists on our Instagram and Facebook pages.
Woman are, Woman do – Sept 5 – 30
This exhibition is about women. Beautiful, happy, filled and free.
Women who accept themselves and live life to the fullest creating a beautiful world around.
Iryna Zavilinska has been a family and portrait photographer for more than 13 years. Originally from Kyiv in Ukraine, she fled the war and arrived in France, in Beaulieu in March 2022. Since then she likes to tell stories about the women she meets in this new city and is inspired by their energy and their strength. The inner harmony that emanates from these women proves that age does not change our souls.
Raphaëlle Doin, Berlugane has been drawing and creating since childhood. She began by creating paintings and decorative objects combining acrylic paint and paper, glass, wood, wicker… under the name of Pretty Cozy by Raphaëlle D. Then she discovered watercolour: a passion was born for this technique which plays with colours and the fluidity and versatility of water. Lover of the sea and cats, she invites you to discover her watercolours painted during her travels, her favourite landscapes and her imagination.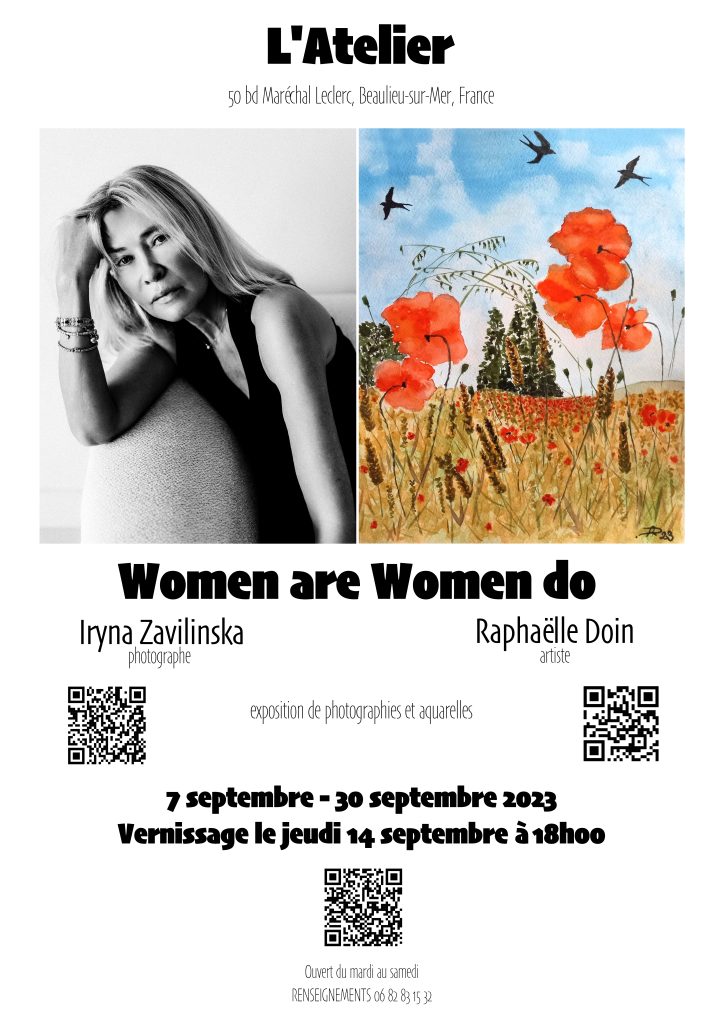 Lolo & Isabelle – October 3 – 28
For Lolo, it was very young that painting proved to be a means of expressing his perception of life and his sensations. This art has taken a place predominant and has become today the best way to convey messages that his mind develops through his daily experiences.
Lolo favors the use of warm and golden tones, which favor their integration into the lighting effects and which give the paintings a sensual value. The relief is also a primordial element which highlights even more the inspiration of a moment. The use of Golden Acrylic on canvas combines traditional painting and sets a new trend. Gold and silver in abundance seeking to touch the sensitivity of your soul.
Isabelle was first a certified teacher in Economics and Management, but that was before, and then she decided to let her creative side speak and returned to the Faculty of Trades a few years ago and, with her CAP and Professional Florist Certificate in hand, she quite naturally began to evolve among flowers…
Isabelle's favourite thing is to create small plant worlds under bells throughout the year: each season can be represented by a palette of flowers in dedicated colours. Isabelle mainly uses dried and stabilised plants. Joy, happiness and glitter guaranteed!
Vernissages
We host vernissages at the gallery on the first Thursday of every month from 18:00 – 20:00, free entry.
Come and meet our featured artists, enjoy music and refreshments and lively conversation!
Dates 2023:
April 6th – Flora Doin, Romain Numa & Alexandre Pkrownichki (March 30 – April 30)
May 4th – Marine Semeria (May 2 – May 23)
June 1st – Oleg Sheludyakov (May 31 – June 24)
June 29th – Genevieve Bozec (June 28 – July 31)
August 4th – Multi Artists (August 1 – August 19)
September 14th – Iryna Zavilinska and Raphaelle Doin (September 5 – 30)
October 5th – Lolo Schohn and Isabelle Guerre (October 3 – 28)
November 2nd – Richard Roux Giuge (November 1 – December 5)
December 7th
ATELIER CLOSED : August 22 until September 4